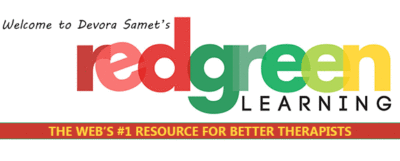 RED

GREEN
Behavior Therapy

TM
What are social skills?
Social skills can be thought of as two sets of behaviors: behaviors that one should do (Green Behaviors), and behaviors that one should avoid doing (Red Behaviors). In short, someone who displays Red Behaviors needs to learn to stop doing them while someone who doesn't know what to do or say in a given situation needs to learn do Green Behaviors. Children and adults who are either doing excessive Reds or not doing enough Greens may have social learning difficulties.
​
The good news is that there is a simple set of strategies, that when used properly, can speed up the social learning process. Red and Green Behavior TherapyTM (based on the traffic light system which implies that green means go and red means stop,) uses six simple steps to teach any social behavior.
Have you heard of the Red and Green Learning System? It's a wonderful program that uses a visual behavior system that enables students to be in control of their own behavior.
WHY IS THIS AN EFFECTIVE SYSTEM?
Using the red and green system can be quite advantageous. Find out how!
It's a wonderful program that uses a multi-modality teaching approach to teach children about their behaviors and social skills.
view the
red green behaviors
The first step in the art of teaching social skills requires that we label behaviors in a concise manner.
purchase red & green material
Browse through the pictures and see which ones will be helpful to use with your student or child.